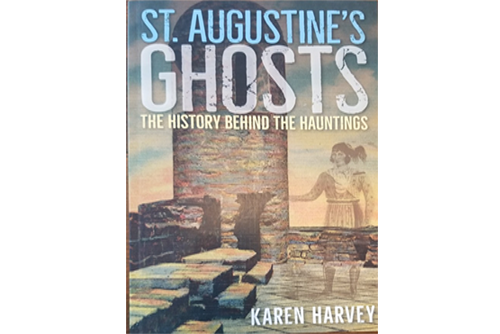 Karen's publication in 2018 is 
St. Augustine Ghosts: The History Behind the Hauntings 
published by Seaside Publishers, a division of the University Press of Florida.
The stories explain the culture and historical events behind the tales. The "ghosts" may be the reason for the popularity of the stories, but the people involved are important to our understanding of the longevity of the accounts.
Spanish history continues at the old Horruytiner House on St. George Street. Stories date back to the 1600s and one is reiterated about a woman living there in the early 1800s before Florida became a territory of the United States.
Maria Andeu, a Minorcan, witnessed her husband's fall from the first lighthouse in 1859. Visitors hear her calling out to him when walking the pier at the location of the tower.
Two children who died in an accident at the St. Augustine Lighthouse in 1873 continue to appear. The third child to die was a little black girl.. Why is that people do not see her.?
Lucy Abbot and Abbie Brooks continue to appear in the neighborhood north of the Castillo de San Marcos. Stories about both women are fascinating.
Kenny Beeson, a former mayor, did not create the ghosts, something happened to him that led to an exorcism by a local priest. It was unusual to all of them as they dealt with an odd situation.
The stories tell the history of St. Augustine and the people who live here. Perhaps the "ghosts" are telling us something we wouldn't know otherwise
[wp_cart_button name="Saint Augustine's Ghosts The History Behind The Hauntings" price="29.95″]